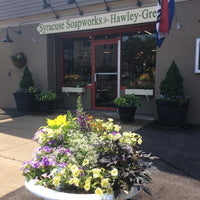 Visit our store
Syracuse Soapworks products are sold at our Salt City Artisans gift store located in the Historic Hawley-Green Neighborhood.
226 Hawley Ave
Syracuse, NY 13203
Online ordering with curbside pickup is still available for local customers.  Pickups can be arranged outside of our current business hours.  We will do our best to accommodate your schedule.
Winter Business Hours
Monday Closed
Tuesday Closed
Wednesday 11:00 - 5:00
Thursday 11:00 - 5:00
Friday 11:00 - 5:00
Saturday 10:00 - 4:00
Sunday Closed
Free, off-street parking is available at the front and back of the building, (access back parking from Catherine Street). We also feature products from artists and artisans from Central New York.
Phone​
(315) 479-0400